The coronavirus pandemic has shaken the world to its core, leading to a pace of change that has never been seen before.
Overnight, business leaders were forced to confront a host of unprecedented challenges ranging from keeping their employees and customers safe to reorientating operations and navigating complex government support schemes.
In a Kafkaesque scenario, the world went into lockdown and business went online. This inevitably accelerated the digital transformation of many companies, which rushed to embed learnings from this new environment in order to build resilience for the future.
Digital transformation is expected to remain vital for organisations as they need to recover from the impacts of the pandemic. Businesses are evaluating existing and future technologies and current technical capability to establish whether they will be capable of innovation at the scale needed to survive and thrive in a post-Covid world.
Most technology can be bought, but the ability to utilise that technology to adapt and succeed in an increasingly digital environment depends on people.
But technology should not be the central consideration when planning a digital transformation. People should.
This statement may seem obvious, yet businesses continue to make mistakes when looking to transform. Business leaders pay lip service to the importance of being people-centric, but what does that actually mean in practice and how is it achieved?
Most technology can be bought, but the ability to utilise that technology to adapt and succeed in an increasingly digital environment depends on people. Covid has highlighted the importance of people in organisations; it has shown how human ingenuity, creativity, and resourcefulness, combined with the power of modern technology, can create solutions, ideas, and businesses for the future, solving problems at scale and adapting industries in scarcely believable timeframes.
Companies that prioritise people whilst leveraging technology and enabling innovation at scale, accelerate the value they create in the long-term. Here we offer five key recommendations that have helped Palladium lead our clients through successful digital transformations.
1. Develop an environment which focuses on how change feels
To make change successful, business leaders need to develop a climate and mindset which harnesses attitudes of learning, collaboration, fast failure, and agility, all in an environment which focuses on how change feels to the people impacted by it. This includes how change is communicated, how ideas are received, and how solutions are applied.
2. Focus on your employees, they focus on your customers
It is crucial to put people at the centre of what you're trying to do – empower people who support technology-driven change and make sure to avoid creating an us-and-them culture for the ones who don't. Resistance is engagement, use it! Use your employees as a conduit to understanding customer needs and enabling a transformation that is customer and employee experience led.
3. Engage, involve, and constantly communicate
The communications around change are never a one-and-done event. It's crucial to keep employees informed throughout every step of the change process. Continual communication has been found to be a leading factor in a transformation's success. When thinking about how to communicate change to employees it's important to be clear and consistent, to focus on what the value is for employees, and to be prepared to admit when you don't have all the answers.
One of the most common phrases that come up in response to change communication is "what's in it for me?" If employees understand what value the change brings to them personally then they're more likely to buy into it. While not having all the answers employees are looking for can sometimes breed uncertainty and a lack of trust, pretending you do when you don't will eventually have the same outcome. It's important to focus on what you do know and admit what you don't. This shows employees that you're communicating openly and transparently. Just make sure to follow-up as soon as you know more. Don't make them chase you for answers.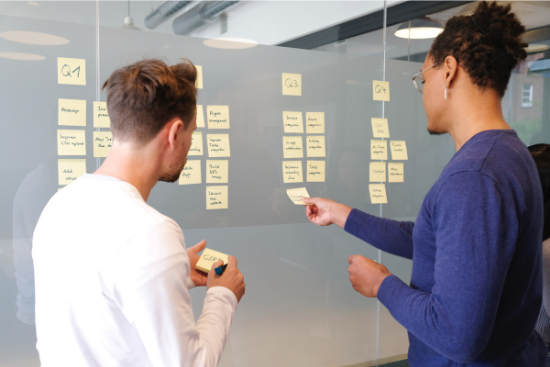 4. Remember that your employees are people
Be aware of human behaviour. Humans are inherently tribal and influenced by those around them, along with being creatures of habit. People may want to change and embrace new ways of working, but they should also not be penalised for falling afoul of existing habits. People can't be expected to change overnight and never slip up. Be sure to remember that your employees are only human.
5. Develop models that work for managers, not just specialists
Remember that even a digitally-led business is not run purely by digital experts. Ownership of the transformation should therefore be shared by both specialists and the broader management team. Having a business that has fully bought into a transformation will typically lead to a smoother transition, whilst programmes driven by CTOs, in isolation, will often end in disaster.
Palladium is a digital and technology due diligence provider and digital transformation partner to Private Equity firms and their portfolios across Europe and the US. Palladium was named by Real Deals as 2020 Specialist Advisor of the Year at The Private Equity Awards.
Discover Palladium's full range of capabilities in our latest case studies.