As digital increasingly becomes a focus for businesses, assessing the digital and technical capabilities and opportunities of target businesses should be at the forefront of all investors' agendas. Here, we get to the bottom of what we actually mean by digital due diligence and what investors should be considering when conducting a digital process.
The pandemic has highlighted the vital importance of getting digital right and yet digital due diligence is, arguably, the least understood of all the diligence streams completed during M&A processes. Indeed, the definition of digital itself is nebulous. The space is so far reaching and fast moving that the term is often used as a convenient catch all.
Many assume digital due diligence is just about assessing a business's go-to market strategy – an assessment of marketing spend and performance. However, in reality, the remit of digital due diligence is much wider. Digital due diligence fills the gap between commercial due diligence and technical due diligence, validating the potential opportunity by providing robust, data-driven answers to fundamental commercial questions and evidencing a business's ability to capture that opportunity.
Furthermore, it is relevant to just about every business, from B2C e-commerce platforms, to B2B industrial businesses. Businesses which haven't historically had a digital focus are now rushing to create a digital presence. Customers now expect all businesses to have a website where they can easily find information, even if customers are unable to transact online. Digital investment might be required to improve internal business functions such as process efficiency or to integrate offline sales processes with digital systems.
Digital due diligence fills the gap between commercial due diligence and technical due diligence.
The digital operating model
When dilligencing a business with an online presence, it is important to assess against the digital operating model. We diligence a spectrum of businesses that are on a digital journey, from B2B companies whose digital capabilities may be in their infancy, through to international marketplaces with website traffic in the millions each day. Regardless of the stage of digital development, we use the digital operating model to assess a business's digital and technical abilities.
The digital operating model provides a full view of digital capabilities ranging from go-to-market strategy and culture, to innovation, product, tech and data and customer experience. Assessing these cornerstones is key to ensuring that no digital opportunity goes unmissed and that a business has the foundations to grow and achieve its business plan post transaction.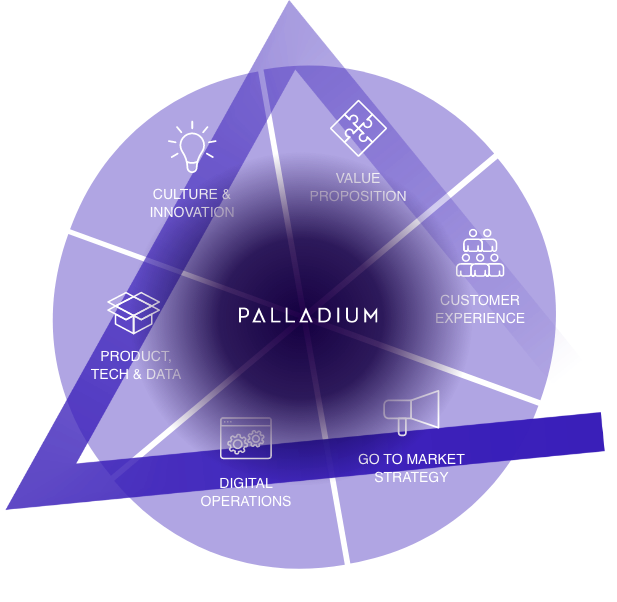 Combining digital and tech DD
There are significant benefits to linking tech due diligence with digital assessments, as the two are often intertwined, which is why product, tech and data are key parts of our digital operating model. The technical infrastructure, data flows and data security of a business are crucial to the business's current capabilities as they all play a part in supporting the underlying go-to-market strategy. It is also beneficial to understand the interplay between digital operations and tech infrastructure, both from a strategic and cultural perspective.
Understanding the full technical and digital capabilities of a business allows us to assess exactly how scalable the business is and to provide a view of the business within a broader context. By combining elements of both digital due diligence and tech due diligence we are able to assess the full digital operating model and get a true understanding of a business's digital capabilities.
However, there is no one-size-fits-all when it comes to digital due diligence. Creating a bespoke process is key to understanding the current digital operating model and unlocking its potential. For a pure-play digital B2C business, it is important to assess the whole customer journey from discovery to purchase, through to nurture and retention, whilst for a marketplace, it may be important to focus on the UX from a supplier and customer perspective. Using a modular scoping approach allows us to adapt to different targets, adjusting the breadth and depth of analysis across the different elements of the digital operating model. This allows us provide comfort for our clients on their key investment questions, whilst highlighting areas for value creation.
Unlike other diligence streams, a lot of digital diligence can be done prior to exclusivity. Scopes can be adapted to give a high-level view without direct access to the business, offering investors an indication of digital strength in the earliest stages of an acquisition process.
Identifying the digital opportunities
As consumers continue to demand a digital presence from all businesses, regardless of sector, and as advancements in digital continue to accelerate at a remarkable pace, it has become increasingly important to assess the digital operating model, bridging the gap that once existed between commercial and tech due diligence.
We believe diligence is about looking for opportunities in businesses – not finding problems. We work with our clients to identify areas of the digital operating model where the business could improve, helping to feed into longer term value creation planning and accelerating the digital transformation journey post investment.
Palladium is a digital and technology due diligence provider and digital transformation partner to Private Equity firms and their portfolios across Europe and the US. Palladium was named by Real Deals as 2020 Specialist Advisor of the Year at The Private Equity Awards.
Discover Palladium's full range of capabilities in our latest case studies.