Is marketplace the future for private equity backed eCommerce businesses?
UK retailers have finally opened their doors once more, after a second three-month period of enforced closure. But lockdown has been hard on the high street and retail giants that failed to nail digital, with several notable names, including Top Shop and Debenhams, now gone for good.
However, while we were unable to visit stores in person, many turned to marketplaces such as Ebay and Amazon. Indeed, the use of marketplaces has accelerated dramatically, offering a convenient and safe way for consumers to access the goods that they want.
Amazon, in particular, has benefited, reporting a 51 percent rise in UK sales last year. However, even pre-covid, Amazon had become a fundamental part of the consumer journey, with initiatives such as Amazon Prime membership driving consumer behaviour and supporting a growing propensity for customers to not only use the platform but indeed even to start the customer journey on Amazon.
The expectation that an e-com product will be available, in-stock and easy to find via Amazon, has only been exacerbated by a global pandemic and it is therefore no wonder that the maturity of a businesses' Amazon strategy has become a key consideration when looking at its digital capabilities.
An effective Amazon strategy has become a crucial component of digital due diligence and value creation for private equity firms targeting the e-commerce sector. Here, we explain what private equity investors should be looking for and how they can use the marketplace to create better businesses.
Amazon is now central to the digital buyer's journey. However, success on Amazon is not a quick fix. Marketplaces require their own dedicated strategy and resource.
Traffic generation
Amazon has become the start point for many consumers buying journey and much like paid advertising on Google, which is a well-established component of many businesses' acquisition strategy, Amazon offers the ability to run paid advertising directly on the platform to drive customers to a product page. 'Sponsored' products will appear at the top of a consumer's search results and can take a number of forms.
There are sponsored product ads, which drive searchers to a specific product that you are selling and there are sponsored product display ads, which are interest, rather than keyword targeted. Much like paid marketing ROAS, it is important, of course, to take the advertising cost of sale, or ACoS, into account when employing these strategies. For a non-household name brand that is looking to grow, an ACoS of between 20 and 30 percent is considered good.
Amazon traffic can also be influenced by external demand generation, through for example, influencer activity, paid search or paid social. In fact, it is important that Amazon is seen as just one part of a holistic digital journey and investment in external channels can help stimulate upper funnel awareness, guiding consumers until they reach the point of purchase.
Once on the platform, users will typically check pricing on the platform, as well as reviewing delivery options which are key levers to influence conversion. As with wider attribution methodologies, it is important to track the impact of external demand generation on Amazon revenue, as this will be key to informing future marketing investment.
Winning the buy box
The key aim, in all this, is to 'win the buy box' – the white box on the right side of the Amazon product detail page, where customers can add items for purchase to their basket. Indeed, 82 percent of Amazon sales go through the buy box, according to Bigcommerce, due to the low-friction nature of the user experience, which allows customers to quickly checkout. If you are not able to win the buy-box your listing will appear in the other sellers section, which requires users to manually select.
Winning that buy box is therefore key to securing a purchase and is determined by an Amazon algorithm based on price competitiveness, shipping, customer service and stock availability. Maintaining positive feedback and managing inventory levels is therefore critical. A buy box win rate of 90 percent is considered the maximum achievable for a retailer selling directly to consumers on Amazon.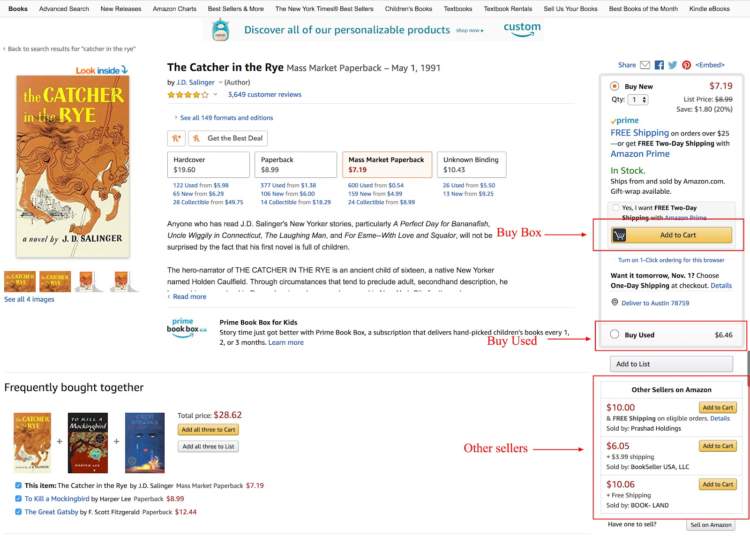 Securing the Amazon's Choice and Best Seller badges is another route to influencing consumer decision making. Amazon Choice has a 25 percent higher conversion rate compared to other listings, according to Profitero. Meanwhile, some businesses push products at specific times of year to win Best Seller badges during key windows such as Black Friday and the run up to Christmas.
The components that influence the Amazon algorithm can be managed inhouse or through dedicated agency support, depending on what is appropriate for a business's size and level of maturity. What is important, is that a business fully understands the factors that determine Amazon visibility and that sufficient resource is allocated to making this work.
Amazon or direct to customer?
A key question that any e-commerce business must answer, is whether to focus on a direct to customer proposition or on Amazon advertising. But in a world where Amazon has become an integral touchpoint in the buyer journey and where digital native customers expect an e-commerce website to allow them to complete a transaction, the real question is how can a business integrate both of these revenue channels because each has a critical role to play.
Amazon customers can certainly boost top-line revenue, but Amazon ultimately owns those customers, meaning these customers are not part of the company's own customer database. Fulfilment is another consideration. Product margins, logistics and distribution costs need to be factored into the pricing of products on Amazon. This will then inform product pricing strategy, as customers are likely to compare across both platforms to find the best price.
Finally, consider customer value. There are businesses that have demonstrated significantly higher lifetime value (LTV) on Amazon compared to their direct-to-consumer strategies. Indeed, one e-commerce company we worked with, noted a 40 percent higher LTV, driven by a more affluent Amazon consumer, the impact of Amazon's inbuilt subscribe and save model, and an easier customer journey and checkout process.
Your Amazon strategy
It is clear, then, that Amazon has become an integral component of any e-commerce digital strategy. This has only been intensified by covid. There are real benefits to advertising on the platform. Amazon can also be a powerful insight resource. Just as Google search data reveals what customers are looking for, Amazon can provide information on what people are buying.
However, Amazon is not a retail quick fix. It requires dedicated resource and has its own unique recipe for success. Marketplaces should not be thought of as bolt-ons to an existing digital strategy. They need a bespoke strategy all of their own.
Palladium is a digital and technology due diligence provider and digital transformation partner to Private Equity firms and their portfolios across Europe and the US. Palladium was named by Real Deals as 2020 Specialist Advisor of the Year at The Private Equity Awards.
Discover Palladium's full range of capabilities in our latest case studies.
Palladium is a digital and technology due diligence provider and digital transformation partner to Private Equity firms and their portfolios across Europe and the US. Palladium was named by Real Deals as 2020 Specialist Advisor of the Year at The Private Equity Awards.
Discover Palladium's full range of capabilities in our latest case studies.